4. Assess and Manage the Legal Implications
At the same time as information is being collected and preserved, and as details of the nature and scope of the incident are just becoming clearer, the organization will also need to consider (even at this early stage of its response) the medium- and long-term litigation risks arising from the incident.
Litigation Risk – Class Actions
It is almost certain that, in the aftermath of any significant data incident, an organization will face one, and perhaps two, kinds of class actions, be commenced against it. First, a consumer class action will almost certainly be brought on behalf of all customers potentially affected by exfiltration of personal information. Second, if an organization is a Canadian public issuer whose share price dropped immediately after the announcement of the incident, an organization may be sued by a person representing shareholders, with an allegation that the organization's continuous public disclosure as to the state of its cybersecurity systems was misleading.
At the time of writing, no securities class action has been commenced in Canada in the wake of a data incident, but several consumer class action actions have been. Those actions have not yet been fully considered by Canadian courts and as a result, questions regarding the legal validity of the causes of action that were advanced, and the scope of possible damage awards, remain largely open.13
In Canada, a consumer or shareholder class action will almost always be brought in provincial (as opposed to federal) courts. Only one class action can proceed in each province and plaintiff's firms generally operate on the assumption that if they are the first to issue a claim in a particular province, that discourages competing lawsuits in the same jurisdiction. Accordingly, a plaintiff's law firms will generally issue a lawsuit in response to a data breach as soon as it can identify a suitable plaintiff who may have been affected. The statement of claim will likely have only generic wording, simply inserting the name of the organization and some basic facts about the incident. No investigation of the merits of a case will likely be undertaken before the proposed class action is issued (usually with an accompanying press release).
Generally, an organisation can expect the first lawsuit within 7- 30 days. If two months pass without a lawsuit, the chances that a lawsuit will be initiated decline dramatically (unless there is subsequent significant disclosure about the incident, such as a dramatic change in the numbers of persons affected, the type of information compromised, or supported if plausible allegations of fraud tied to the incident are revealed).
It is possible in Canada for overlapping class action to be brought in multiple provinces; as a result, an organization may need to defend multiple parallel cases at the same time. Whether one case or many, class actions tend to unfold slowly (especially where the facts are still being discovered and the law as to liability and damages is, as here, uncertain). It may be 3 to 5 years before a class action reaches trial or settlement. It is for this reason that an organization should include an outside litigation specialist on the incident response team, an involve them as soon as possible; it will be outside counsel who has their eye on the longer term consequences (e.g. asserting privilege, reviewing public messaging, and so on) while the organization and its resources are focused on the immediate response.
REGULATORY RISK
An organization can also expect to be the focus of regulatory proceedings principally mean an investigation by various Privacy Commissioners responding to complaints, or acting of their own accord and, depending upon the industry, could also include securities, financial institution or public health regulators, and even law enforcement agencies.
Privacy Commissioners
Organizations may be required by law to notify regulators or affected persons. The main regulators in this area will be the various provincial privacy commissioners, as well as the federal privacy commissioner. A chief concern for an organization which has suffered a data incident which includes personal information will be providing notification to the various privacy commissioners.
Currently, only Alberta and Manitoba have enacted legislation to require mandatory breach notification in the private (non-health) sector (Manitoba's legislation is not yet in force at the time of writing). Amendments made to PIPEDA by virtue of the Digital Privacy Act now make notification of both affected persons and the federal privacy commissioner mandatory, but the relevant sections are not yet in force pending the passage of implementing regulations. In the health sector, Alberta, Ontario, Newfoundland, and New Brunswick have all enacted laws that requires mandatory breach notification.
There may be penalties for failure to report a data incident. In Alberta, the private sector mandatory notification is triggered "where a reasonable person would consider that there exists a real risk of significant harm to an individual". Failure to notify the Alberta Privacy Commissioner of a breach that may pose a real risk of significant harm to individuals is an offence, subject to a fine of up to $10 000 for an individual and up to $100 000 for a corporation.
As a practical matter, an organization will generally want to notify all relevant privacy commissioners (regardless of whether it is mandatory), using an approach that ensures a coordinated notification process that ensures consistency of information. Organizations must be aware that while information provided to a privacy commissioner will generally be confidential, some of it may be subject to subsequent disclosure pursuant to requests made under access to information laws.
Complaints from individuals to a privacy commissioner will trigger discrete investigations aimed at resolving the matter in issue, but privacy commissioners may also initiate an investigation of their own accord into any issue within their jurisdiction. Such investigations are more likely where there are multiple individual complaints, the scope of the data incident is large or involves particularly sensitive information, where there is a larger public policy issue or need for guidance (e.g. a new type of service or business model) or where the privacy commissioner feels that consumer or public interests have not been adequately protected by the organization's response.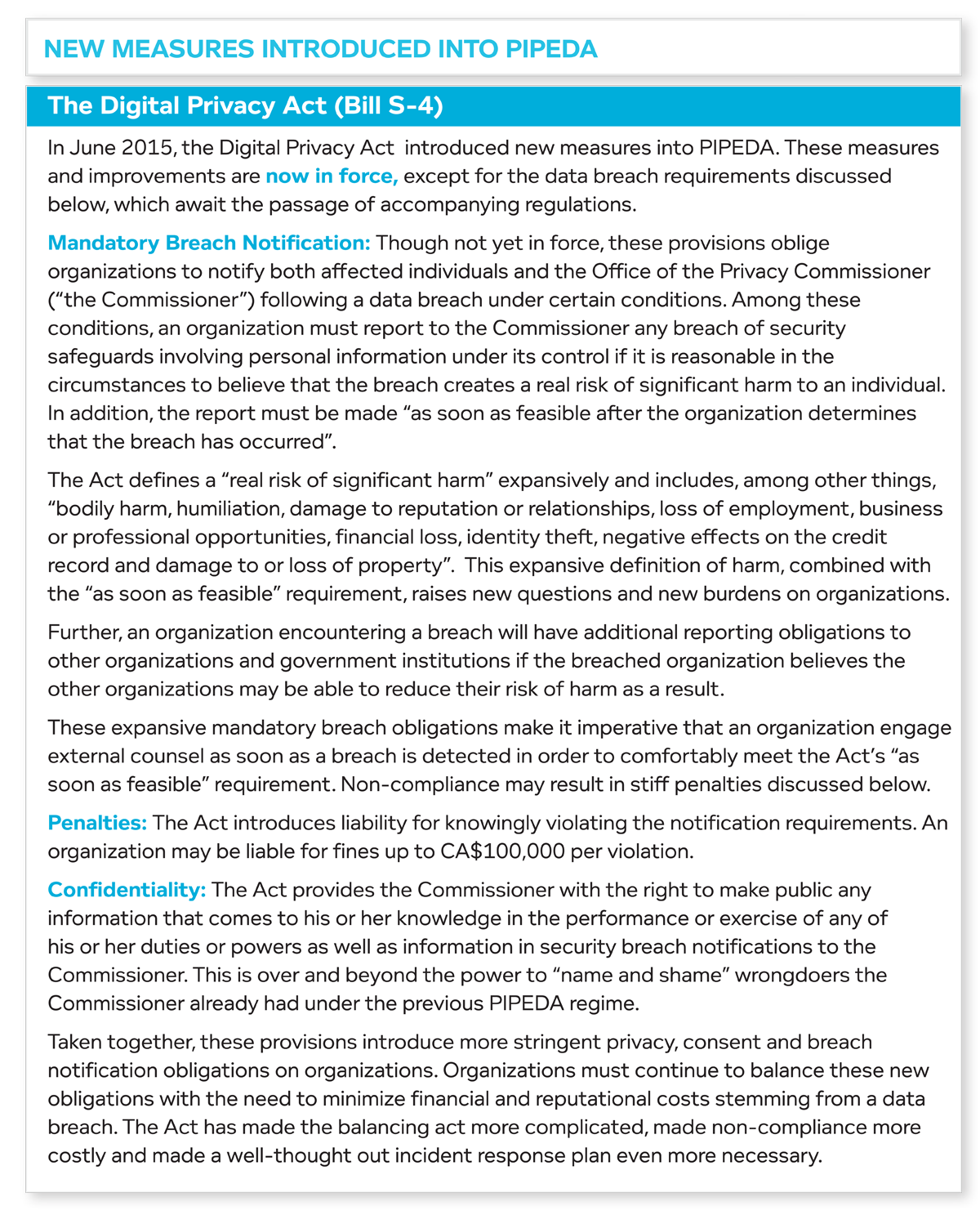 PAYMENT CARDS AND PCI-DSS OBLIGATIONS
Data incidents involving payment cards and/or the loss or unauthorized access to cardholder information raise special considerations in respect of the complex web of players in the chain of payment processors and the various contractual interrelationships. While there is at this time no legislative or regulatory obligation in Canada to notify payment card providers or acquiring banks of a data incident, such obligations may well arise as a result of the various contractual relationships between (and among) the merchant organization and the various bank and payment card brands in respect of the use and issuance of payment cards.
There may be a requirement to comply with sector-specific standards. The Payment Card Industry Security Standards Council was founded by leading payment card brands. Organizations accepting payment card transactions – including acquirers, service providers, and merchants – from any of these payment brands have to comply with the Payment Card Industry Data Security Standard (PCI-DSS) requirements. Although the Security Standards Council has exclusive authority to set requirements, it does not participate in compliance enforcement. The card brands themselves are responsible for enforcing compliance for all transactions conducted with their own cards. They accomplish this through policy enforcement with their member banks (acquirers). The member banks, in turn, enforce compliance with merchants. Consequently, if an organization wishes to process major credit cards, it must do so through members of the card brands, who mandate PCI-DSS compliance measures in their service contracts.
PCI-DSS requires documentation to be developed and maintained, preventive and detective security controls to be implemented, and processes to be in place in order to identify and contain any security breach attempts as soon as possible. A PCI-DSS Forensic Investigator (PFI), an IT forensics firm approved by the card brands, will conduct periodic reviews of an organization's compliance with the PCI-DSS standards and issue reports that will recommend or decline continued certification. Non-compliant organizations are exposed to higher transaction fees imposed by their acquirer banks, contractual "penalties" imposed by the payment card brands, higher liability if a data incident occurs, and could run the risk of losing the authorization to process payment card transactions.
Additional, multiple sector-specific notifications may be required. When a data incident occurs, the compromised organization will often be required (in accordance with applicable payment card industry rules and requirements of acquirers, issuers and/or participating payment card brands) to notify their acquiring banks and/or participating payment brands, and may be contractually required to engage an approved PFI to investigate the security issue, determine root cause, and report back to affected participating payment brands and others. The PFI investigation will often be conducted alongside the organization's own forensic IT investigation.
PCI-DSS does not provide specific guidelines on how to handle a security breach. Each payment card brand has its own policies and procedures; and they can differ among the individual brands. For example, some card brands require "immediate" notification upon confirmation of a data incident; others require notification within 24 hours of knowledge of such incident).
Some organizations may be tempted to defer or decline such reporting. However, even if organizations do not notify the bank and/or card brand network, it is very likely that these entities will independently identify the organization as a source of cardholder data compromise. Both banks and payment card networks have implemented processes to identify the source of an incident as precisely as possible.
Legal counsel should be involved in all discussions with PFI investigators and related investigations. An organization may want to consult outside counsel with expertise in this area to determine how it wishes to manage not only the PFI investigation, but its interactions with card brands, the management of its own parallel IT forensics investigation, and the preservation of privilege. This is a complex, high stakes area and the strategic management of privilege issues will be of significant benefit to the organization.
PUBLIC COMPANY RISK DISCLOSURE
Reporting issuers are required to disclose risks in a number of disclosure documents mandated by securities laws, including in prospectuses and in continuous disclosure documents such as annual information forms. For instance, the instructions to Form 51-102F1 (Management's Discussion & Analysis) include a discussion of risks that have affected the financial statements or are reasonably likely to affect them in the future, and risks and uncertainties that the issuer believes will materially affect its future performance.
The CSA issued its 2016 Notice updating its previous notice on the same topic, CSA Staff Notice 11-326 Cyber Security (the "2013 Notice") for reporting issuers, registrants and regulated entities. As the CSA acknowledges, since the 2013 Notice was published, the cybersecurity landscape has evolved considerably, as cyber attacks have become more frequent, complex and costly. Citing two recent studies, the CSA noted in its 2016 Notice that:
In 2015, 38% more cybersecurity incidents were detected than in 2014; and
The average total cost of a data incident for the companies participating in the studies stood at USD$4 million.
In the 2016 Notice, the CSA first provides a summary of its recent initiatives to monitor and address cyber security risks in order to improve overall resilience in our markets. For example, noting the failure of many issuers to fully disclose their exposure to cyber risks, the 2016 Notice states that CSA members intend to re-examine the disclosure of some of the larger issuers in the coming months and, where appropriate, will contact issuers to get a better understanding of their assessment of the materiality of cyber security risks and cyber attacks. The CSA also notes current initiatives on enhancing cross-border information sharing among regulators related to cybersecurity.
The 2016 Notice also provides links and references to a number of particularly helpful cybersecurity resources that have been published by various financial services regulatory authorities and standard-setting bodies in an effort to improve the preparedness of market participants to deal with cyber incidents. Such resources include:
IIROC Cybersecurity Best Practices Guide14
IIROC Cyber Incident Management Planning Guide15
Securities and Exchange Commission (SEC) Division of Corporation Finance Disclosure Guidance16
The National Institute for Standards and Technology (NIST) Cybersecurity Framework 17
The Office of the Superintendent of Financial Institutions (OSFI) Cyber Security Self-Assessment Guidance 18
As noted above, the SEC has provided similar guidance related to cybersecurity risk disclosure. While risk factor disclosure is entity specific, in its CF Disclosure Guidance: Topic No. 2 – Cybersecurity, the SEC noted that, depending on an issuer's specific facts and circumstances and the level of materiality, cybersecurity risk factor disclosure include the following: (i) aspects of the registrant's business or operations that give rise to material cybersecurity risks and the potential costs and consequences; (ii) To the extent that functions that have material cybersecurity risks are outsourced, a description of those functions and how those risks are addressed by the issuer; (iii) a description of cyber incidents experienced by the issuer that are individually, or in the aggregate, material, including a description of the costs and other consequences; (iv) risks related to cyber incidents that may remain undetected for an extended period; and (v) any relevant insurance coverage.19 In its guidance, the SEC noted that while entity-specific disclosure should be provided, securities laws do not require disclosure that would result in compromising the issuer's security. Rather, the aim is to provide sufficient disclosure to allow investors to appreciate the nature of the risks faced by the issuer without compromising its security.
In addition, issuers may need to disclose known or actual cyber incidents, to provide context and investors and costs and other consequences in order to allow investors to appreciate the nature of the risks. As well, if a cybersecurity incident constitutes a material change, a press release will need to be disseminated and filed and a material change report will need be filed.
INSURANCE COVERAGE
Does the organization have cybersecurity risk insurance? If so, is the incident covered and to what extent? Agreements and policies will need to be reviewed to make these determinations. As well, insurance agreements generally have a requirement that the insured promptly notify the insurer of a suspected incident – organizations will want to make sure they know when such an obligation is triggered, how long they have to report, and what information is required.
Once the above is complete, the insurer should be notified, but only once counsel has been involved and approved.
INDEMNIFICATION AND/OR RESPONSIBILITY OF THIRD PARTIES OR EMPLOYEES
Where a third party (such as an IT service provider) is implicated in a loss of data, relevant agreements should be reviewed for indemnification clauses and any notification or informational requirements therein. Once the above assessment is complete, the third party service provider should be notified if appropriate, but only once counsel has been involved and approved.
Employee liability and/or responsibility may also be in issue. A review should be conducted to determine if corporate policies were followed or if laws were violated. Appropriate actions should be taken. If the organization has a unionized environment, labour considerations may also be in play.
6. Consumer/Customer Response
One of the most significant stakeholder groups in a data incident is an organization's customers. Canadian consumers have high expectations that not only will they be promptly notified about a data incident but that organizations will take immediate, clear steps to protect consumers (or allow consumers to take steps to protect themselves). The gap between what organizations do, and what consumers expect them to do, creates an area of risk.
Among other things, organizations should consider establishing a call centre to address consumer concerns. In addition, consumers often expect organizations involved in significant data incidents involving payment cards or identifying information to offer credit monitoring and/or identity theft monitoring.
A well thought-out and robust customer response can, in addition to helping retain customers and preserve brand value, have a significant impact on potential class actions fees and damages.20
CALL CENTRES
In the case of most large data breaches, a decision will be made to activate a call centre (as opposed to dealing with customers using internal resources on an ad hoc basis).The sooner a call centre is up and running, the sooner an organization can begin managing the message, limiting reputational risk and litigation risk.
CALL CENTRE CONSIDERATIONS
Can the service provide ensure the organization will be assigned a unique toll-free number for its customers?
Will the number be truly toll-free and work in all affected jurisdictions?
Can the service provider offer this service on a 24/7 basis?
How long does the organization anticipate the call centre will remain active – if that isn't known, can the activation period be open ended?
Is enrollment for protection products straightforward and easy to understand? Organizations will need to think about how to qualify callers for these products; in most cases, companies will want to have a low (or no) threshold to avoid further customer dissatisfaction.
Does the service provider have sample scripts and FAQs that can be customized by an organization?
Does the service provider have proficiency in both French and English? Other languages?
All materials should be reviewed by the legal department to ensure consistency of message and language. How quickly can the legal department review and approve these scripts and FAQs?
Service providers should have a straightforward process for customers to enroll for protection products.
Does the organization have final say on all scripts? Or will the service provider insert its own language, and possibly use the opportunity to pitch to customers?
Is there escalation to a fraud resolution specialist where appropriate?
Can the service provider provide tracking and reporting services? Organizations will need this information to monitor the progress of their data incident resolution efforts. Things like daily call volume, type of calls, speed of answer and other metrics should be considered.
PROTECTION PRODUCTS
There are typically two main types of protection products that are offered: credit protection and identity theft protection. Credit protection involves no-cost credit monitoring for customers and alerts customers if there is activity or something new on a customer's credit report. Identity theft protection involves monitoring driver's licence, social insurance number and other foundational identity documents and online activity to see if any personal information is being bought or sold online, and monitoring court records and other markers of possible identity fraud.
These protection products may not be required in all cases. An organization affected by a data incident will need to consider carefully what products it will offer and, if it decides not to offer certain products, understand that the decision will come under significant scrutiny, particularly if it later emerges that such protection may have been warranted. The provision of such services also assists in mitigating possible damage, which will be a factor in any subsequent litigation.
Note that there are significant differences in the protection products that are available in the United States versus Canada. Where a data incident affects both jurisdictions, companies should expect to receive inquiries as to why better/longer/more complete services are being offered in one jurisdiction as opposed to another. These inquiries can be reduced if the nature of the products being provided is not detailed in public statements, but rather such statements mention only the fact of such products being made available.
COMPENSATION
In some cases, fraud protection or identity theft monitoring may not be appropriate or feasible. In other cases, consumer goodwill may be at stake. In such circumstances, an organization may want to consider compensation. Ideally, this will have been explored well in advance of any data incident, and an organization will have a clear understanding of the form of such compensation, its distribution, the amount, and so on (e.g. $10 gift cards to all consumers who present evidence of a purchase between qualifying dates).